LunchStop is very concerned with environmental issues. We are working with our clients to go green. We work to promote this process. Here is some background from the Bay Area Green Business Program on how to go green.
Green Business Standards
The Green Business Standards presented below define what a business or public agency must achieve to be certified "green." Businesses in over 20 different industries, including auto repair shops, printers, hotels, restaurants, landscapers, wineries, janitorial and laundry services, grocery and retail stores, home remodelers, attorneys, architects, engineers, gift services, and a variety of office and home-based businesses, have successfully met the standards and are now recognized as Bay Area Green Businesses.
There is great flexibility in how the standards can be achieved. The Green Business Program Checklists provide additional information and suggested implementation measures. Measures previously implemented will be considered towards achievement of standards. Participants can request alternatives or exemptions for measures which are not feasible for their company.
If your business is located in a participating county, and you want to join the growing list of certified green businesses contact your county coordinator.
Compliance Plus
To be a green business, first bring your operations into
compliance
with all environmental regulations. Then go beyond compliance to
meet the general practices and targeted resource conservation and pollution prevention measures
which are summarized below.
General Practices
Track water and energy usage and solid and hazardous waste generation.
Adopt a written environmentally preferable (or green) purchasing policy.
Establish a 'green team' that can help guide efforts to green your business.
Provide three on-going incentives or training opportunities to encourage management and employee participation.
Inform your customers about your efforts to meet the Green Business Standards.
Assist at least one other business in learning about the Green Business Program and encourage them to enroll.
Resource Conservation and Pollution Prevention
Water Conservation
Monitor water bills for sudden rises in use, and contact your water company should this occur.
Regularly check for, report, and repair leaks.
Install low-flow faucet aerators and showerheads.
Use dry methods for outdoor cleanup.
Install toilets that use 1.6 gallons per flush or less.
Implement 2 additional recommended water conservation measures.
Solid Waste Reduction & Recycling
Conduct a waste reduction assessment of solid waste streams. &
Implement solid waste reduction and recycling measures:

Reduce waste in 7 different ways, including eliminating use of individual water bottles and Styrofoam, and setting printers and copiers to duplex.
Reuse materials in 3 ways.
Provide containers at convenient locations and recycle cardboard, newspapers, office/mixed papers, glass, metal, plastics and 1 additional material.
Purchase paper with at least 30% and paper towels with at least 35% post - consumer content and at least 2 other recycled-content products.
Energy Conservation
Conduct regular maintenance on heating, ventilation and air conditioning (HVAC) and refrigeration systems at least twice a year.
Save energy in 7 ways, including required installation/use of more energy-efficient light fixtures, task lights, and exit lights.
Pollution Prevention
Conduct an annual assessment of your facility to identify ways to prevent pollution.
Check labels for cleaning products, building maintenance and other materials and seek safer alternatives.
Properly store and recycle or dispose of all hazardous wastes.
Implement pollution prevention measures:

Implement 7 measures in and around the facility, including required measures such as:

Ensure only rain enters the storm drain.
Keep dumpsters covered.
Direct water from outdoor washing of mats and vehicles to sanitary sewer.
Hire BASMAA-certified cleaners for washing outdoor areas.

Reduce chemicals used in 8 ways, including required measures such as:

Use low-toxic cleaning products such as those that meet Green Seal certification standards.
Replace aerosols with pump dispensers, if available.
Eliminate products that contain anti-bacterial agents such as Triclosan.
Reduce or eliminate use of pesticides by implementing Integrated Pest Management.

Reuse or recycle all "Universal Wastes" (fluorescent tubes and bulbs; batteries; electronics), plus two additional potential pollutants.
Join the Spare The Air program (www.sparetheair.org) and implement 2 additional measures to reduce vehicle emissions.
Becoming a Green Restaurant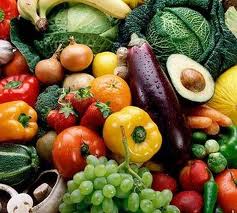 Becoming a Green Restaurant is Rewarding and Saves Money
For Zatar's chefs/owners, Waiel and Kelly Majid, the preparation of a delicious dish begins with the planting of a seed. They grow over a half acre of vegetables, fruits and herbs which help supply this Mediterranean restaurant's kitchen. Garden and locally grown, organic ingredients ensure freshness and superior quality, naturally resulting in tastier food! The Majids also keep Zatar's food waste to a minimum by composting all raw kitchen scraps for the garden and feeding cooked kitchen scraps to their chickens and worm bin. Zatar's garden has been featured in Organic Gardening Magazine.
How can restaurants "green" their businesses? First bring their operations into compliance with all environmental regulations, then adopt pollution prevention and resource conservation practices. The program checklists offer a variety of options for meeting program standards. Here are some examples of what you can do.
Top Ten Green Restaurant Practices
Conserve Energy and Water
Use low flow pre-rinse spray nozzles at the dish machine. (Your water company may provide free low flow pre-rinse nozzles.)
Use Energy Star compact fluorescent lamps (CFLs) instead of incandescent bulbs in store-rooms, break rooms, offices, wall sconces, kitchen exhaust hoods and walk-in refrigerators.
Use ultra low-flow toilets and flow restrictors on restroom faucets.
Reduce, Reuse, Recycle
Buy products in returnable, reusable or recyclable containers.
Recycle food*, cardboard, paper, glass, metal and plastics. (*food waste, along with waxed cardboard, paper napkins, paper beverage cartons and wooden crates can be picked up for off-site composting in many parts of the Bay Area.)
Buy recycled-content paper products whenever possible, including hand towels, napkins, office and food service uses.
Use take-out containers that can be composted (paper) or recycled (#1 and #2 plastics, aluminum) instead of styrofoam.
Pollution Prevention
Properly maintain grease traps and kitchen hoods to prevent overflows and emissions to the sewer and storm drain systems.
Keep outdoor waste storage, parking and sidewalks free of litter, grease spills and other potential pollutants. Use sweeping and spot cleaning for most clean ups. If washing is needed, use a cleaning method that keeps cleaning water out of storm drains.
Use organically or sustainably produced foods in the kitchen.